Hospitality and delicious homemade cuisine
In 1895, House Robida was the largest building in Ćetnara (Katinara), as the locals call the lower part of Črni Kal, with world-renowned climbing sites. It was an important stop on the way from the coast to the interior of the country. The house already included a village inn, a grocery store, accommodation, and a post office. After the war, the inn became best known for its excellent sausages and prosciutto, as well as delicious homemade cuisine, which was provided to guests by Olga and Slavko Žerjul's grandmother.
For many years, the majority of the house remained empty and abandoned, until Slavko's grandson Žiga came up with some ideas, and his sister Tina put the chosen idea on paper. The unanimous thinking of the Vatovec family and nona Olga bore fruit. In July 2018, we completely renovated the Istrian stone house, and Vila Robida was born, where we strive to offer guests a higher level of quality services.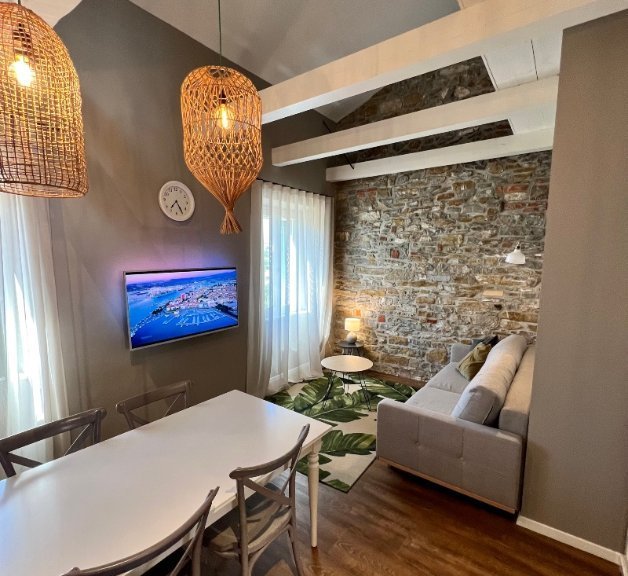 Istrian countryside. Karst edge. Forest.
We designed the rooms with the idea of the Istrian countryside and memories of our grandmothers, the majestic walls of the Karst edge and the forest above it, which is why each room is different and unique.
On the second floor of the house, there are six rooms with a shared bathroom and toilet, and on the first floor, there are five comfortably furnished rooms with uniquely designed bathrooms. There is also a small kitchenette with a fridge and a microwave for making tea or warming milk for your little ones.
The attic floor consists of six rooms with a shared bathroom and toilet, including one room with shared beds (5x) and five smaller, bright double rooms. We pride ourselves on our exceptionally comfortable beds. More information can be found under the "Rooms" tab.